Mountain Collective Road Trip Wrapup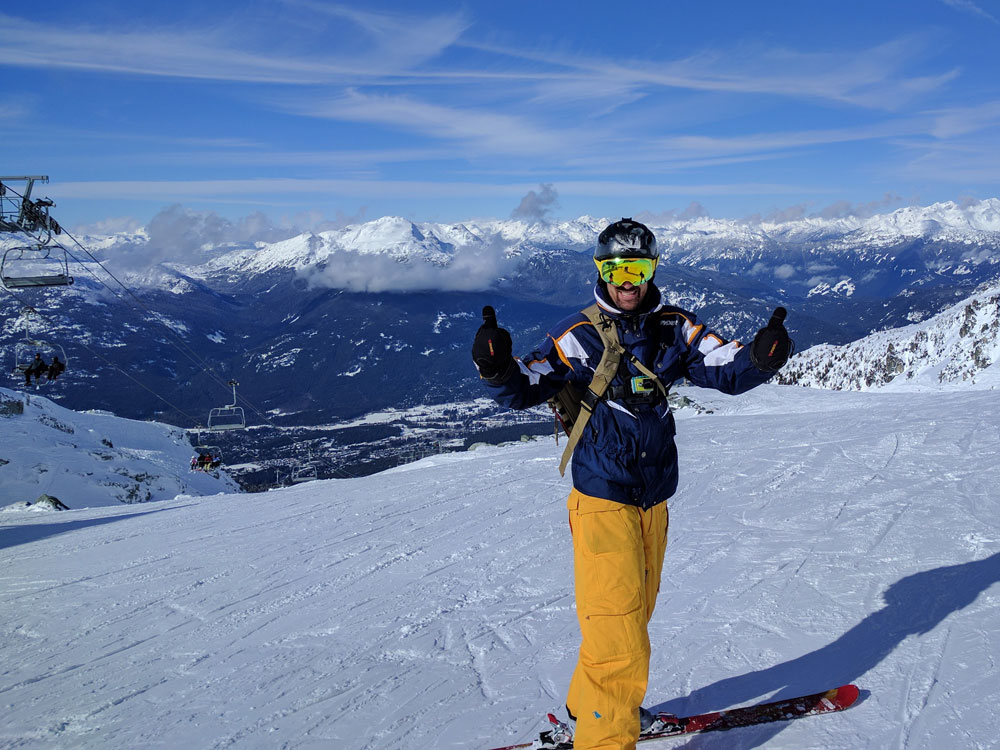 In January 2017, I left from Los Angeles, CA to start my road trip to all of the mountains on the Mountain Collective Ski Pass. The mountain, the conditions and my accommodations for each ski resort is listed below in order. I drove a total of 6,800 miles and went through one windshield wiper, two bottles of windshield fluid, one oil change, two ball joints, two struts, and five glow plugs. Mammoth Lakes, California 300" base of snow - 30-35 degrees F - sunny and blue skies One of the largest ski resorts in the US. It was a great start to the trip - great coverage and blue-bird conditions with low wind. The terrain was very accessible and easy to get around. Lots of steep, fast runs (which I loved!) ACCOMMODATIONS: Mammoth Guest House (an awesome old wood A-frame).
Squaw Valley, Tahoe, California 158" base of snow - 39 degrees F - raining/sleet/snow mix and windy (40 mph at mid-mountain and 100mph winds at the peak) Squaw has their first big snow season in almost 5 years however it was one of the worst days of skiing in my life. All of the locals had squeeges on their gloves to wipe away the rain from their goggles. The snow was like Elmer's glue. Conditions weren't going to improve so I only skied one day. ACCOMMODATIONS: Tahoe Hostel right on Lake Tahoe (about 30 minutes from the mountain) .
Alta and Snowbird, Utah 102" base of snow - 30-35 degrees F - cloudy and light snow Met up with Ian who was also doing the Mountain Collective resorts in a van. His Sprinter van is completely new and he has a toilet. Watched the Super Bowl in Elko NV and stupidly left after halftime and Tom Brady proceeded to have a huge overtime win. Snowboarding is banned from Alta. Had some fresh powder both days. Also bought used powder skis and poles for 100 dollars. Alta was my favorite - lots of steep, fast runs. Overall a small mountain. Snowbird had either extreme steeps or moderate, blue runs - almost scary at times.It was fun under the Peruvian lift. There was a Rebel Wilson sighting (Fat Amy from the movie, Pitch Perfect) at Snowbird (sorry - no picture evidence). ACCOMMODATIONS: Walmart Parking lot in Sandy, Utah - next to an Anytime Fitness, Starbucks, and 5 minutes from the Ski Bus shuttle up to the mountains.
Sun Valley, Idaho 146" base of snow - 25-30 degrees F - cloudy and light snow Definitely one of the richest and nicest resorts ever. Excellent groomers and caught some powder the 2nd day. Would love to come back on a powder day! ACCOMMODATIONS: Stayed in an AirBnB since it was damn cold at night and parking wasn't allowed on streets due to plowing.
Whistler, BC, Canada 101" base of snow - 30-35 degrees F - clear and no wind Crossed the border in one hour including a secondary stop and thorough search of my van. Whistler/Blackcomb was overwhelming big - there were so many runs and wide open terrain to ski that I didn't know what to ski. I skied Whistler mountain in the morning and then took the peak-2-peak tram to Blackcomb for the afternoon. Whatever type of terrain your heart desired, they could provide it. I was there on a weekday (albeit a Spring Break weekday) and 20,000 people were skiing which would crush any other mountain. Watch out in 2017/2018 when Whistler is on the Vail Resorts Epic pass - this place is going to be mobbed. ACCOMMODATIONS: Parked in the driveway of a heli guide in town.
Revelstoke, BC, Canada 99" base of snow - 25-30 degrees F - cloudy and heavy snow I arrived in Revi on a Sunday and I waited for a few days since powder was in the forecast. I skied two days of fluffy deep powder on the biggest vertical of any North American ski resorts (almost 8000 feet). Only 3 lifts and 1 gondola service the whole mountain and there is a fair bit of traversing needed to access the whole mountain. This was easily my favorite mountain on this ski trip (fresh powder doesn't hurt either!). Met two cool Aussies (Harleyand Benny). Will definitely come back in the summer. Revi is a hidden gem. ACCOMMODATIONS: Stayed in the Samesun hostel in town (about a 10 minute drive to the mountain).
Banff, Alberta, Canada (Lake Louise and Sunshine and Norquay) 78" base of snow - 10-15 degrees F - cloudy and light snow Finished a great few days at Revi and said goodbye to the Aussies - Benny and Harley. I will hopefully visit Harley in Australia in the winter. I then drove over the most avalanche prone strecth of road in North America - 163 avalanche chutes and the Canadian military drives around and shoots a huge howitzer gun at the tops of the cliffs to cause avalanches. As I was driving through a tunnel an avalanche was going over the top of me! Amazingly, even though it was snowing heavily, the roads were fine. The town of Banff is magical and beautiful at night. I followed the storm that came from Revi and I skiied some deep powder in the back bowls of Lake Louise.
Switched hostels to HI apline center and it had a commercial kitchen which was awesome! I skied Sunshine which was OK since some parts of the slopes were very flat but I found some good steep stuff later in the day. Locals told me about Toonie day ($2 to ski) at Norquay and warned me about the Jerrys. I went there and skied for 2 hours and then got the hell out since no one knew how to ski! I wasn't skiing - I was avoiding other skiers. ACCOMMODATIONS: Stayed in 2 different hostels - HI Alpine and Samesun in Banff. Both were great places to stay. About a 40 minute drive to Lake Louise and a 20 minute drive to Sunshine.
Jackson Hole, Wyoming 157" base of snow - 40-45 degrees F - clear and very warm Stayed overnight in Bozeman where it was considerably warmer than the -10 F degrees in Banff. Then drove the remaining time to Jackson Hole and arrived to 50 F degrees. I was bummed that it was so warm. Switched all of my ski gear to spring skiing. The 1st day was awesome - icy in the morning but it thawed and was great until 3pm. Jackson Hole is big mountain skiing and I only wish I could have skied it with fresh powder. The 2nd day was rough since it didn't freeze overnight and was slushy. I skied only 3 hours. Met a cool German guy - Sebastian (who is a doing a 12 month road trip) and we had dinner. ACCOMMODATIONS: A rough, old hostel built back in the 1950s with the best location ever - ski in/out right at the base of the mountain!
Snowmass, Aspen, Colorado 78" base of snow - 40-50 degrees F - clear and very warm Skied Snowmass - long, wide open runs. Most of the mountain is blues, very few green runs or catwalks. The bowls looked great for a powder day. I really enjoyed carving the long, blue runs. ACCOMMODATIONS: Parked at the Carbondale park and ride and the Intercept lot near Snowmass.
Telluride, Colorado 75" base of snow - 30-35 degrees F - clear and big powder on the second day Skied the first day on a perfectly windless, clear day. Met an Aussie - Dane at the hostel, caught a ride up with him to the mountain the next morning and skied a crazy amount of powder on the second day (approximately 20 inches). My ski popped off on a run and went shooting down the slope and over a cliff. Luckily a tree branch caught it before it went off the cliff! ACCOMMODATIONS: Stayed at Old Mine Shaft Inn in Rico, CO (about 30 minutes outside of Telluride).
Taos, New Mexico 98" base of snow - 25-35 degrees F - cloudy and snowy Hands down some of the best powder skiing of my life. It didn't hurt to be riding with a semi-local (shoutout to Lucas) to show Dane and I where the prime hiking spots were to be found. We skied some fresh powder on so many runs - it was a great end to the road trip! ACCOMMODATIONS: Parked in the Taos ski parking lot on the mountain.
In total, I spent about $1250 on accommodations over 2.5 months and $780 in diesel fuel. I went into the ski road trip with very low expectations - I would be successful if I didn't crash my van and didn't break any bones. Luckily, neither of those things happened! Overall, this was one of the most fun road trips of my life - obviously the skiing was great but the people that I met and connected with along the way were what made this road trip really special.